Notifications allow the tracker to report information to you about updates, high load or critical errors (for example, if your server runs out of space) in a convenient way. In addition, notifications also allow you to monitor certain configured triggers executed in the tracker in real time.


At the moment, Binom has four notification templates - email, telegram, sms and webhook.
Using the System message switch, you can also enable the sending of critical tracker errors, to one channel but not another i.e. Telegram, but not email.
The following examples show how to setup notifications:
MESSAGE VIA E-MAIL

After setting up this notification, you will receive a confirmation email. This notification will not work unless you confirm it from your e-mail.
TELEGRAM-BOT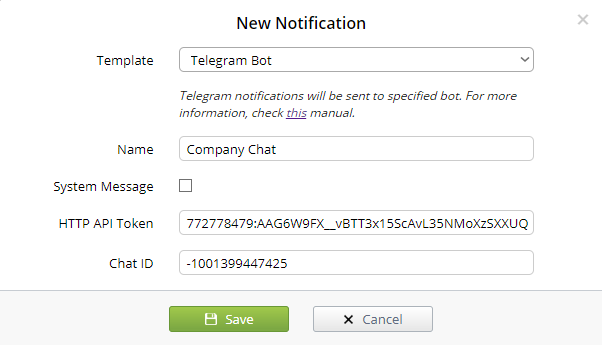 To set up notifications you will need your own bot.

Creating and configuring of a bot in Telegram

To create a new bot, you need to write the @BotFather /newbot command.
Next, you will be asked to choose a name for the bot and its unique username.

From reply you need to copy an authorization token:

and add it to the notification settings:

next you need to create a new channel and add your bot to its administrators:

Now write any message to your chat and after that using the request:
https://api.telegram.org/botXXXXXXXXX:XXXXXXXXXXXXXXXXXXXXXXXXXXXXXXXXXXX/getUpdates
Get your channel's chat_id:

and specify it in the notification settings:


SMS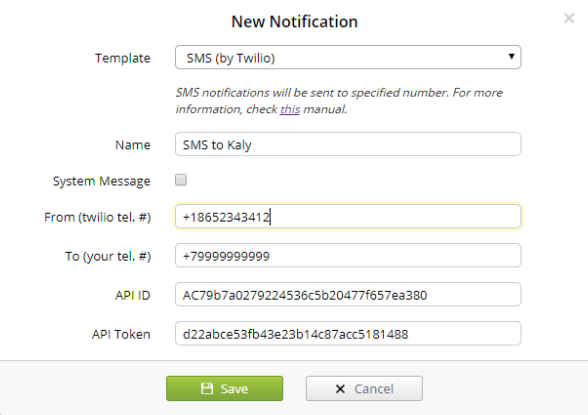 SMS is configuring using the Twilio service
Twilio Setup

1. Register on the Twilio service.
2. Create a new project, select "Programmable SMS":

3. Name your project:

4. Invite other members of your team to this project, if necessary, or simply skip this step:

5. Open Dashboard and you will see your account ID and token ID:

which you need to specify in the tracker notification settings:

6. Next, click "Get Started":

7. Choose a number, you will receive SMS from it:


add it in the tracker notification settings:

8. By default, you can send SMS only to the number you specified during registration and if you need to add additional, you can do it in the service settings.
9. Make sure country of your operator is included in the list:


Webhook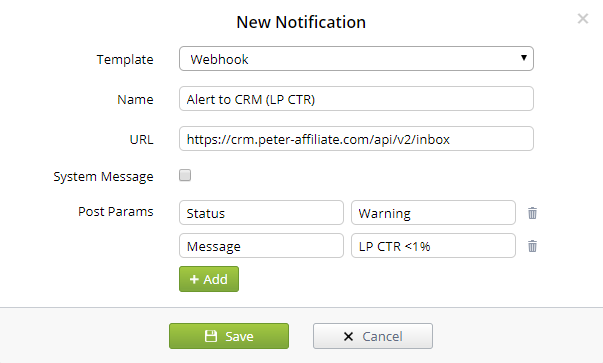 Additionally, you can specify any POST-parameters.