Often there is a situation when you need to change the cost of your past clicks. For example, the traffic source spent more funds than expected. Here you can use the function of manual click cost update.
Go to desired campaign statistic and click Update Costs button:


Or choose Update costs from the context menu: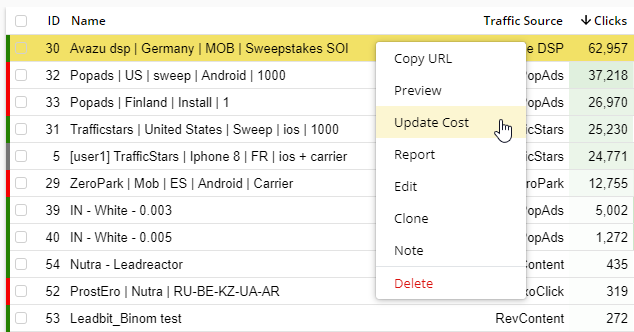 You will see: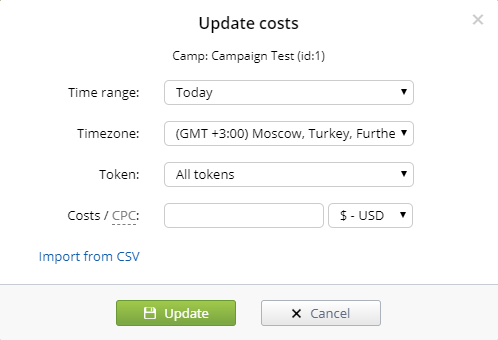 Let's check each paragraph.
Time range - is the time range for which you want to change the cost. You can change the cost for yesterday, today, etc., as well as for specific hours of any day. By default, time range takes the values of the time frame of the current report.
Time zone - here you can set the time zone of your source. The tracker will update the cost of clicks based on the time difference between tracker and the source.
Token - you can update the click cost for a specific token. Just select it from the list and specify it. It is convenient for updating the cost of a click on specific publishers.
Costs / CPC - choose, whether you want to specify the new cost of all clicks for the selected period, or a new cost per click. Also you can choose a currency.
Import from CSV
With importing from CSV file, you can update the cost of clicks for several campaigns and tokens at a time. To do this, click on the "Import from CSV" link. The second tab will open:

The line format is:
Campaign id; Time zone (ex. +3);Date (yyyy-mm-dd);Cost;Token number (optional);Token value (optional)
Example:
53;+3;2016-04-12;122.10;1;site.com
This line will update the cost of all clicks in one day 2016-04-12 for campaign with id 53, considering the time zone +3, for the token equal to site.com and will set a new cost of $122.1.
Статус обновления
After update is started you'll see its status:


It might take some time for costs to update. You can check the progress on the Monitor page: