Here you can find all Tracker settings.
Tracking links
Click URL - the link that must be placed on your landing pages (Read more).



Postback URL - this link is the template of Postback that you need to specify in aff. networks (more details in Postback).


Tracking pixel URL - you need this code to use Conversion Pixel.
OPTIONAL values do not need to be changed.

User

You can change your login and e-mail in this section.
You can also see the time zone of the tracker and change it if you want. But be careful: changing the time zone will overlay statistics on the difference in time zones.


Here you will be able to change your password to enter in the tracker.
Stats
This section describes the tracker appearance and the settings of all time characteristics. All settings are idividually for each user.


User session (s) - authorizing lifetime or inactivity time after which you will need to login again to the tracker.
Unique period (s) - unique time or the time after which the user (click), who was already in the tracker, will become unique once again.
Instant unsub. period (s) - period during which unsubscription considered quick (for subscriptions)
With-traffic filter min. clicks - minimum amount of clicks for With-traffic filter
Google API key - API-key for domain check for Google ban.
Remember groups in reports - includes the memorizing of the groups in the latest report (instead of the standard Path - Landers - Offers).
IP anonymization (GDPR) - internal mechanism for hiding IP addresses, relevant only for European clicks.
No-Cookie Mode (GDPR) - cookies storage disabling for European users. Warning, rules for uniqueness and Smart Rotation won't work for them.
Conversion log - setting for saving the conversion log: to safe incoming requests, outcoming or both types.
Second sorting, column - setting for the second sorting in reports.
Second sorting, type - setting type for the second sorting in reports.
Table vertical line - vertical lines in the tables.
Table style - tables' visual style.
White: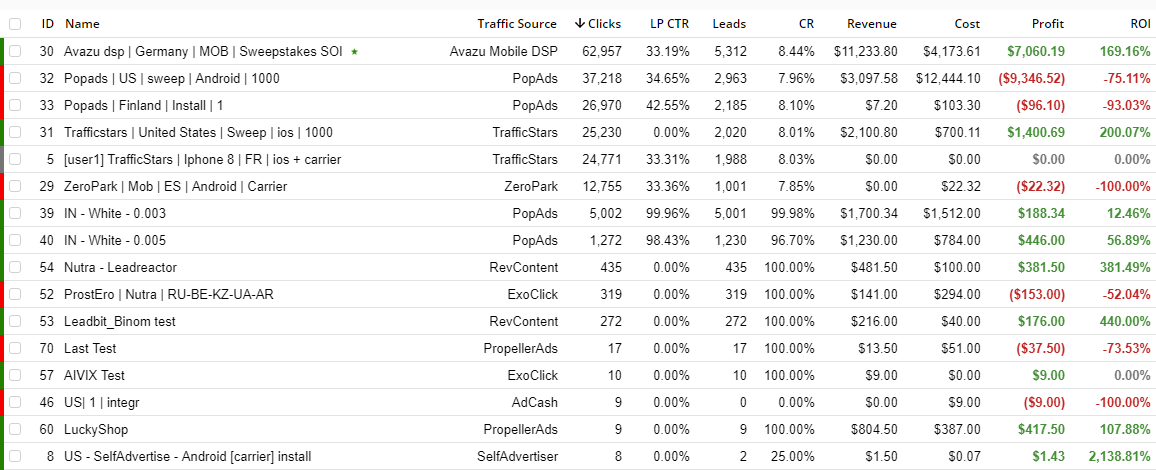 Zebra: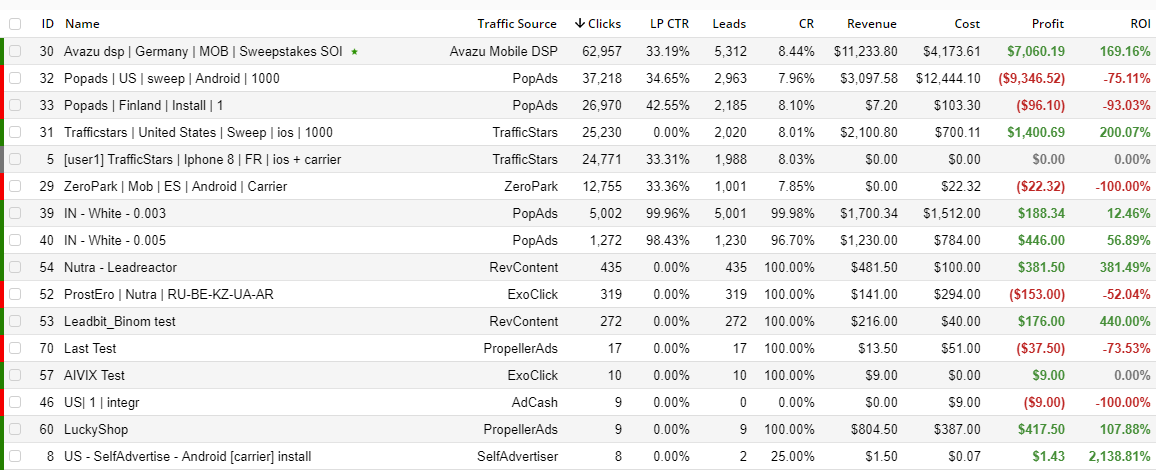 Color: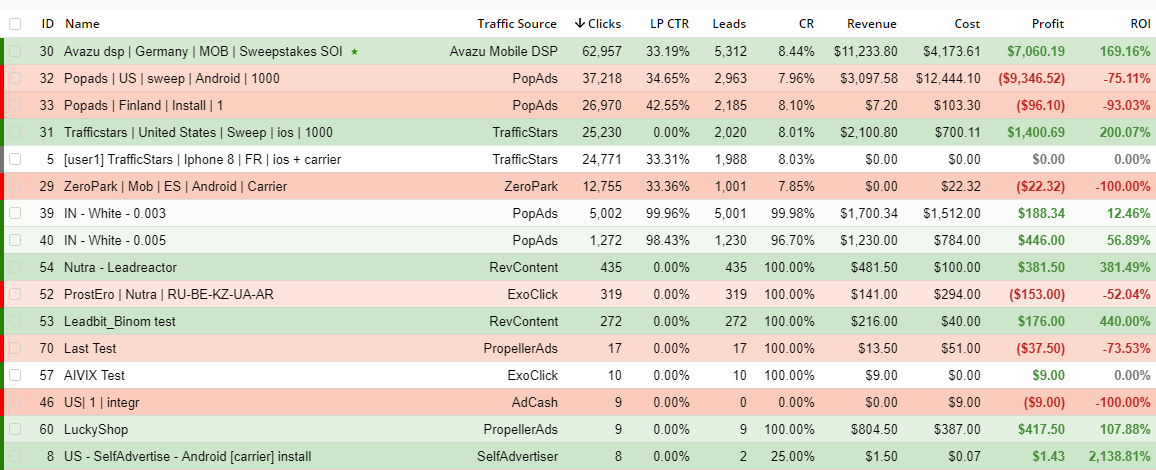 Color (cells):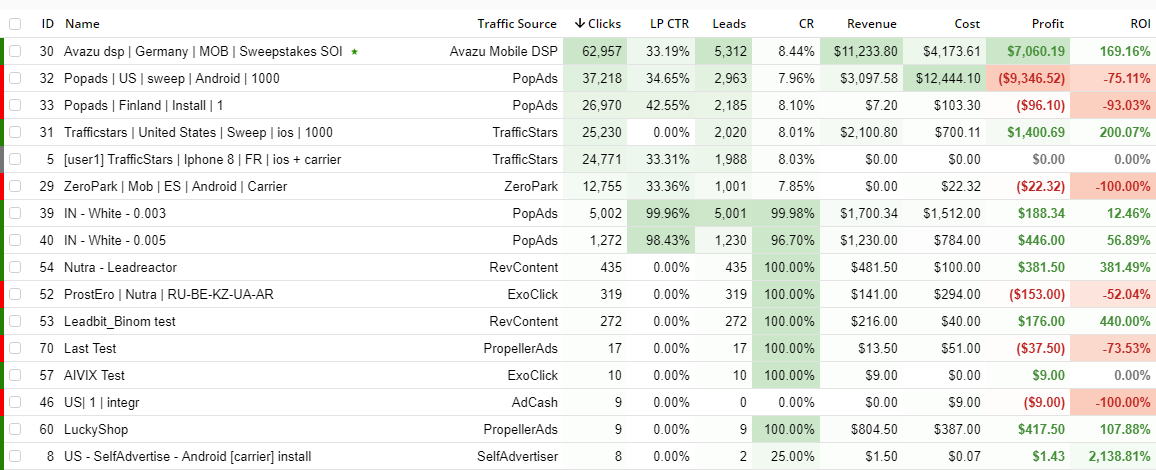 Color intensity depends on the ROI.


Columns
You can fully customize your columns in this menu. Namely, organize, hide unused and add your own.
In the "Caption" field the column name is displayed, in the "View on pages" field you can select which tabs will display this column, in the "Formula" field you can see the column's formula, if it has one.



In the column editing menu, you can change name, number of decimal places, format and tab to display it. You can also customize by different groups of campaigns.


In addition to editing existing ones, you can create your own column with the formula you need. To do so, just click the button
: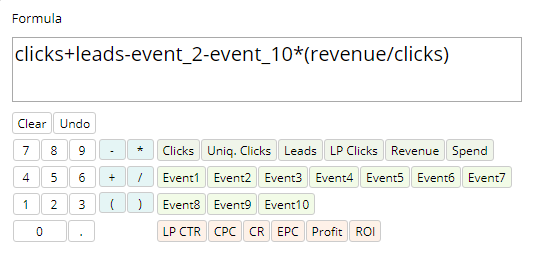 Status scheme settings
This section is for status-charts.

LP Protect
You need this code to hide the lander (LP Protect).

Default hide referrer - default referrer setting for new campaign.
Meta-refresh default domain - default domain for meta-refresh.
LP live time (s) - time after which landing page will disappear for someone who has already entered there (with activated LP Protect).

API
Here is your api-key, which you will need to work with our API .
Import / Export
Settings transfer from one tracker to another, more information.
URL Customization
URL customization, more information.
2FA
Enabling and disabling 2FA.
Apps
Links to mobile versions of tracker, currently avaiable app for Android, iOS version is under development.
Notification
Here you can setup Notifications in tracker and use them with Triggers system, more information.